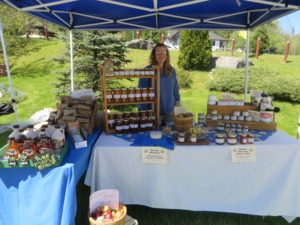 Marion Willemsen is the owner of Heritage Hill Apiary, which sells an array of honey and bee products (such as beeswax candles) as well as seasonal vegetables. Marion was a stay-at-home mom who was looking to use her interests of gardening and beekeeping as a source of supplementing her income. That led her to starting Heritage Hills Apiary ten years ago. Initially she also sold at trade shows and other markets in addition to Kinmount but she made the transition from stay-at-home mom to working mom which according to her "mysteriously diminished" the time she was able to spend enjoying her hobbies. The reason Marion opted to stay with the Kinmount Farmers Market over the rest is that it's her local market and one that's close to her heart.
Marion recommends all the other vendors at the market and makes an effort to buy from them. As the other vendors have, Marion is quick to point out and emphasize the close-knit feeling that the m
arket has with it's vendors and customers. In terms of her own booth her favorite product that she sells – and the one she gets most compliments on – is her Newly Harvested Honey. Other vendors have recommended her Honey Soap as being something customers should check out. As of late the importance of bees to our environment has been something making news. According to a Bee expert, "Local sellers tend to provide year-round food supplies for their bees which allows them to remain nearby. When bees are picked up and relocated for pollination exploitation it changes their diet and exposes them to potentially harmful elements like pesticides. Local sellers don't use pesticides, something that has been proven to contribute to poor bee health, so these bees tend to be healthier."
When asked about the im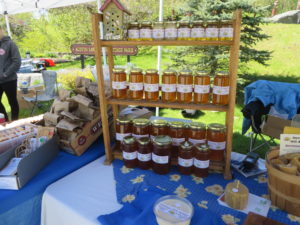 portance of farmers markets and the push to buy local, Marion points out that farmers markers provide "A very important economical boon, as well as a way for locals to understand food production in their area" two excellent elements of local farms and business. She goes on to further highlight the importance of supporting local businesses by pointing out that its how the small, independent sellers become known. Marion refers to the concept of the "the "hundred mile diet" which is the best of the local economy and eating the local foods these businesses have to offer. She also explains that eating foods that are in season is part of a healthy lifestyle and that with the vendors at the Kinmount farmers market you can be assured that the products are fresh and in-season.
Marion loves the beautiful location that the Kinmount Farmers Market is set up on – it provides a peaceful and idyllic backdrop to the market. She enjoys working alongside the other vendors and of
course the customers that come throughout the season. Her message to those customers is one of gratitude and she wishes to convey that, "We are grateful for the patronage of our loyal customers – without them we wouldn't exist!"