Linda Mehak
416.986.7216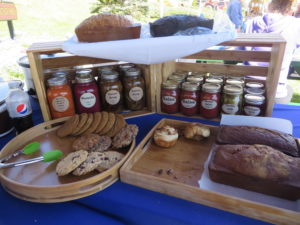 Linda J's Market is owned and operated by Linda Mehak and sells fresh baked goods, salsa's, hot foods and a variety of frozen prepared meals. Linda has been in the catering business for over 15 years. From 2005-2008 she had a small café in the nautical village of Pickering called The Captain's Walk Café. Her café was an instant hit with locals, tourists and the many people walking around the waterfront. Linda had a reputation for fresh, homemade food, delicious baked goods, hot soups and a warm, friendly atmosphere. After opting to focus solely on her catering business, Linda closed the café.
Linda's cottage is in the Kinmount area and most weekends in spring and summer were spent up there with family and friends. That's how she found the Kinmount Farmers Market – as a custom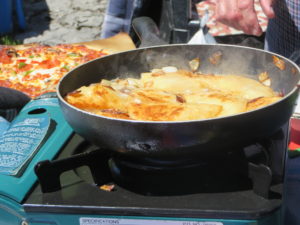 er. She instantly fell in love with the small-town feel of the market. As she describes it, the market gave her a "nostalgic feel, of days past" with its independent vendors and country charm. According to Linda, one of the best aspects of the market is how well the vendors get along. They make an effort to work with one another by varying the products they sell, keeping in touch to find vendors that fill gaps that are needed, and ensuring if there are any similar products being sold that prices are kept similar as to not undercut each other. That was what drew her to setting up a booth 10 years ago – and since then the market as become an important part of her life. In addition to running her booth and operating her catering company, she handles a lot of the operational elements that ensure the market runs smoothly and continues to flourish. She also works to come up with new ideas and to source out new vendors to help keep the market growing and changing.
Linda has a passion for cooking – for as long as she can remember she found happiness being in the kitchen. When
she was younger it was cooking with her mother, as she got older it was making meals for her three children and husband and now its through Linda J's. When needing a name for her company Linda J's was the obvious choice as that's what she's gone by since she was a child. She shares her first name with her mother, so adding the J (her middle initial) was her own way of stamping out her own individual persona.
Buying local is something that Linda practices whenever possible both for herself, and for Linda J's. While at the market she tries to buy from all the other booths – picking up fresh vegetables, meats, honey, jams, baked goods and so on. She also makes an effort to keep in mind the other booths that sell unique giftware or non-food items when looking for gifts or items that she may need. Something Linda is quick to point out about the farms at the market is that th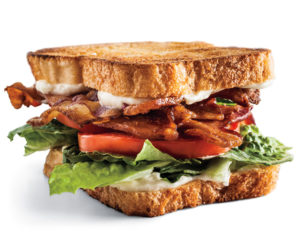 ey practice clean, pesticide-free growing – something that is important to her. One of the elements Linda loves most about the Kinmount Farmers market is the interaction with the customers. She is quick to dispel the assumption that most are cottagers and points out that the customer base is about 50/50 and the market remains busy from opening weekend until closing weekend. Catering doesn't often allow Linda to interact with large groups of people, but the market does bringing her back to one of her favorite aspects of having her café – the personal interaction. She loves her customers and has gotten to know some quite well throughout the years.
While she makes amazing baked goods and is known for her large chocolate-chip cookies and salted caramel squares, Linda herself isn't much of a sweet eater. She does love creating her flatbread focaccias and the hard work that goes into making her perogies. The one thing she would never get sick of is her cabbage rolls and she's most complimented on her carrot cake. Other vendors have remarked that her pizza is delicious and that all the lunches she – with the help of her husband John – have to offer at the market are worth taking a quick break from shopping to try. All of her items can be found on her website – //www.lindajsmarket.ca as well as her catering menu.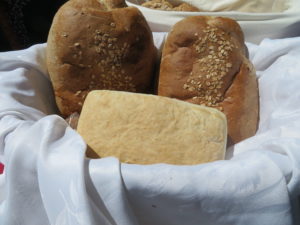 As a member of the farmers market board, Linda wants to convey that she and the market are open to suggestions – how they can improve, what people want to see and any other feedback customers have to offer. She also encourages young artists or local entrepreneurs to come out and try the market if they are interested. Feel free to contact her anytime.