Make dinner this weekend from Kinmount Farmers' Market
July Barbeque Weekend Dinner
BBQ Spicy Mango Chicken, Corn Chowder with Scape Pesto, Spinach Mushroom Quinoa, Spring Mix Salad, Fresh Sunflower Bread and Pineapple Cheese Cake or Raspberry Pie
Shopping List:
appetizers: prosciutto (D&D Meats); Rondelle de Chevre, layer with pesto or tapenade (Four Corner Catering); stuffed olives (Well Preserved)
fresh farm chicken (Mulview Farms)
mango habanero jelly (Bent Twigs)
garlic scapes (Heritage Hill Farms, All Farmed Up)
garlic, green onions, spinach (Lazy B Farms, Heritage Hill Farms)
four ears of corn, 1 sweet potato, 1 potato, 1 onion
1 lb. white mushrooms (Pinery Farms)
spring mix, kale, dried cranberries, pumpkin seeds (Coda Organic Farm), poppyseed dressing (Linda J's)
quinoa, bacon, chicken stock, cream, olive oil, walnuts
Sunflower bread (In good Taste)
Gothic White wine (Pillitteri Estates Winery)
Raspberry Pie (Bennana Bakery) or Pineapple Cheesecake (Linda J's)
Main Course: Spicy Mango Chicken

Butterfly the chicken (how do you do that?) Add salt and pepper. Put the chicken on the barbecue g
rill on low. Heat up a jar of Mango Habanero Jelly and glaze the chicken frequently as you barbeque.
Soup: Bacon Corn Chowder with Scape Pesto

You need 4 ears of corn, 300 grams of bacon, 1 sweet potato, 1 potato, 1 small onion. 1 cup chicken stock, 1 cup 18% cream.  Shuck the corn, cut the kernels off, cut the bacon into small slices, peel and cube potatoes, finely mince the onion. Cook the baco
n on medium heat for a few minutes until some of the fat has been rendered, add the onion and cook, stirring occasionally to caramelize the onion. Crisp up the bacon. Add chicken stock and 3 cups of water and bring to a boil. Add the potatoes and cook uncovered for 15 minutes or until the potatoes are tender. Reduce heat and add cream and corn and gently cook for 4 – 5 minutes.
For the scape pesto, combine 1 cup chopped garlic scapes, 1 cup almonds, 1 cup grated Parmigiano-Reggiano (parmesan) cheese and 3/4 cup olive oil in a food processor and pulse until finely chopped. Top it on your corn chowder!
Spinach Mushroom Quinoa
You will need 3 cloves of garlic, 5 green onions, 1 lb. of mushrooms (whatever you like but white are good in this), 5 oz. of spinach, 2 cups of cooked quinoa, salt, butter and olive oil.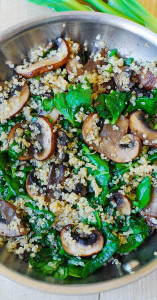 Heat 2 tbsp. of olive oil and 1 tbsp. butter in a large skillet. Add mushrooms and garlic and saute over medium heat about 5 minutes until the mushrooms are soft. Add chopped onions and a pinch of salt and mix. Add spinach, reduce heat to low, cover and cook for less than a minute. Add 2 cups of cooked quinoa and cook for 1 more minute.
Spring Mix Salad
Chop the kale and add it to the spring mix, add dried cranberries and pumpkin seeds and lemon poppy seed dressing. Slice some bread, pour a glass of Gothic White and enjoy! Save room for raspberry pie or pineapple cheesecake.
Download the recipe for Spicey Mango Chicken dinner
Victoria Day Weekend Dinner
Honey Glazed Roast Lamb with Mint Jelly, Sautéed Fiddleheads and Shiitake Mushrooms, Green Salad with Lemon Poppy Seed Dressing, Fresh Savory Bread and Carrot Cake or Fruit Pie
Shopping List:
lamb and fiddleheads (Lazy B Farms)
honey, garlic, dried herbs (Heritage Hill Apiary)
mushrooms and salad greens (Pinery Farms)
garnish with mint jelly (Bent Twigs) and pickles (Well Preserved)
lemon poppy-seed salad dressing (Linda J's)
buns and breads (Linda J's and Four Corner Gardens)
pies, cakes, desserts (Desserts by Wendy and Linda J's)
serve with Cabernet Merlot (Pillitteri Estates)
Roast Lamb: Combine juice of one lemon juice and a half cup of honey in a small bowl. Combine 2 tablespoons finely chopped onion, zest of one lemon, 2 tablespoons of minced garllic, 2 tablespoons of
parsley, 2 tablespoons of thyme, one teaspoon of rosemary and garlic in another small bowl. Take leg of lamb (about 3 1/2 pounds) meat side up, season with salt and pepper, brush with lemon and honey mixture. sprinkle with herb mixture, roll and tie. Rub honey and lemon mixture into lamb leg. place on a baking rack in a roaster. Bake at 350 for about 20 minutes a pound. Brush with honey mixture and pan drippings every 25 minutes. When the inside of the lamb leg reaches 145 remove from pan and let stand 8 minutes before carving. To make sauce, add 2/3 cup of water to roaster and deglaze pan. Serve with your roast, a dish of mint jelly and your favourite pickles.
Sautéed fiddleheads and Shiitake mushrooms:
1 pint of fiddleheads
1/4 cup of butter
3 cloves of garlic minced
4 cloves of shallots chopped
2 cups Shiitake mushrooms trimmed and sliced
sea salt & freshly ground pepper
Steam fiddleheads for 8 to 12 minutes, careful not to overcook. Sauté garlic and shallots over medium heat, careful not to brown them, add the sliced Shiitake mushrooms and saute for 5 to 6 minutes. Turn off heat, drain fiddleheads and add them to the mushroom mixture. Lightly toss and serve.
Combine salad greens and lemon poppy-seed dressing, slice some bread, pour a glass of Cabernet Merlot and enjoy! Save room for fruit pie or carrot cake.
Download the recipe for Honey Glazed Roast Lamb, Mint Jelly, Fiddleheads and Mushrooms